EasyGovt (EG.) has two types of Shipping
Lightening Fast Delivery
Courier Based Delivery
Lightening Fast Delivery:
EasyGovt (EG.) team works with premium servers for faster delivery of virtual products.
Shipping all over the world is FREE for all orders and is through a link.
Since, it's all virtual products, address doesn't matter but still we accept the address to be correct to send out gifts observing performance.
As soon as your PDF copy is customized, we will email you link for downloading or you can still download from the "My Orders" Page.
Cancellations :
Products once bought cannot be cancelled as they are virtual in nature and there is no way to undo the delivery.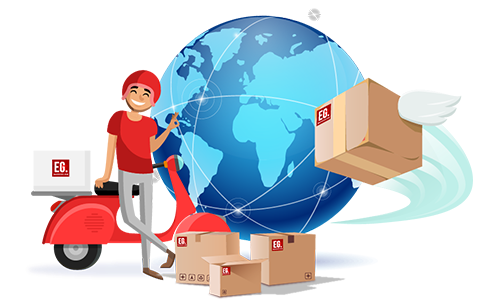 Courier Based Delivery :
EasyGovt (EG.) team primarily takes great care in delivering your products to you, and we only partner with reputed national couriers.
Shipping within India is FREE for all orders.
Because EasyGovt (EG.) product buying is unique, and bought to support children to frame their future, we along with the product, we also tend to ship an appreciation certificate for individual and appreciation certificate for individual company shipping times.
Our courier partners will be able to deliver the shipment to you between Monday through Saturday: 9am to 7pm. Working days exclude public holidays and Sundays. Delivery time is subject to factors beyond our control including unexpected travel delays from our courier partners and transporters due to weather conditions and strikes.
Address change will be accepted only if order has not been shipped. Address change is only possible if new location is within the same state.
As soon as your package ships, we will email you your package tracking information.
If EasyGovt (EG.) products are getting shipped nationally, are expected to reach your place after 20 – 25 days of ordering.
If EasyGovt (EG.) products have to be shipped internationally, it might take more time as we send out in batches and will be informed accordingly in the email.
Cancellations :
Any cancellation email has to be sent and will be entertained strictly within 48 hours of order delivery being successful. Later, it will never be entertained.
Scroll